Healthy Yoghurt Cup Recipe
Ingredients
4 cups reduced-fat plain yoghurt
2 cups fresh or canned fruit
1 cup untoasted muesli or unsweetened breakfast cereal
Method
Line up 4 glasses
Spoon yoghurt, fruit and muesli into each glass in layers until all ingredients are used up.
Comment: This can be prepared at night in a plastic container for a quick breakfast.
Healthy tip!
Love sweet coffee? Try reducing the amount of sugar you have a quarter of a teaspoon at a time to trick your taste buds!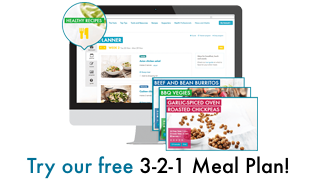 Nutrition Information
| | per serving | per 100g |
| --- | --- | --- |
| Energy | 1555 kJ | 442 kJ |
| Protein | 16.3 g | 4.6 g |
| Fat, total | 4.8 g | 1.4 g |
| — saturated | 2 g | 0.6 g |
| Carbohydrate | 62.5 g | 17.8 g |
| — sugars | 51.8 g | 14.7 g |
| Sodium | 185 mg | 52.7 mg |
| Fibre | 4.2 g | 1.2 g |