Healthy Sweet Potato Frittata Recipe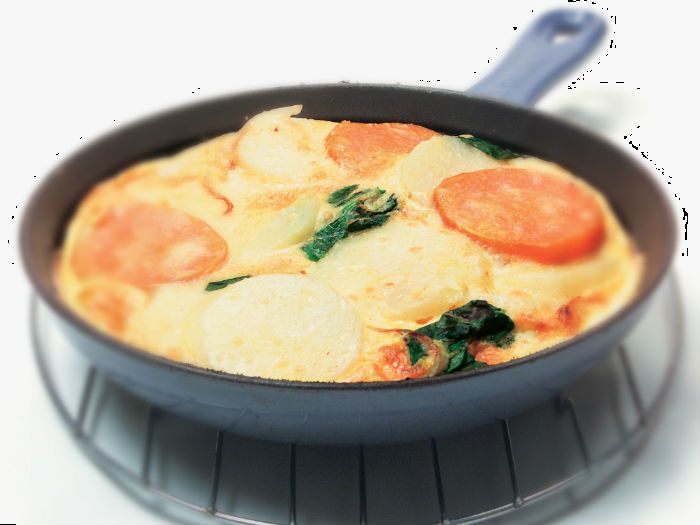 Ingredients
250 g sweet potato, sliced
250 g potato, sliced
1 tsp olive oil
1 onion, thinly sliced
2 cups baby spinach leaves
3 eggs, beaten
2 tbs Parmesan cheese, grated
1/4 tsp ground nutmeg
Method
Preheat grill.
Boil potato for 4-5 minutes until tender, or microwave on HIGH (100%) in a covered dish with 1 tablespoon water for 5-6 minutes, stirring after 3 minutes. Drain well.
Heat oil in a non-stick frypan, add onion and cook for 2 minutes until golden. Add potato, toss to combine and brown.
Stir in spinach and stir-fry until wilted and moisture has evaporated.
Mix eggs, cheese and nutmeg in a small bowl and pour into pan. Cook over low heat until set.
Place under hot grill for 2 minutes to brown the top.
Recipe from Healthy Food Fast © State of Western Australia, 2012. Reproduced with permission.
Variation: Try finely shredded chinese cabbage instead of spinach
Serving Suggestion: Serve hot or cold. Cut into wedges and serve with a salad for a light lunch For a special breakfast dish serve with grilled tomatoes and crunchy wholemeal toast
Healthy tip!
Try mustard instead of mayonnaise to add extra flavour to your salads and sandwiches.
Nutrition Information
| | per serving | per 100g |
| --- | --- | --- |
| Energy | 1505 kJ | 664 kJ |
| Protein | 21.6 g | 9.5 g |
| Fat, total | 23.6 g | 10.4 g |
| — saturated | 9 g | 4 g |
| Carbohydrate | 14 g | 6.2 g |
| — sugars | 2.9 g | 1.3 g |
| Sodium | 267.6 mg | 118.1 mg |
| Fibre | 2.2 g | 0.9 g |