Healthy Banana Berry Pikelets Recipe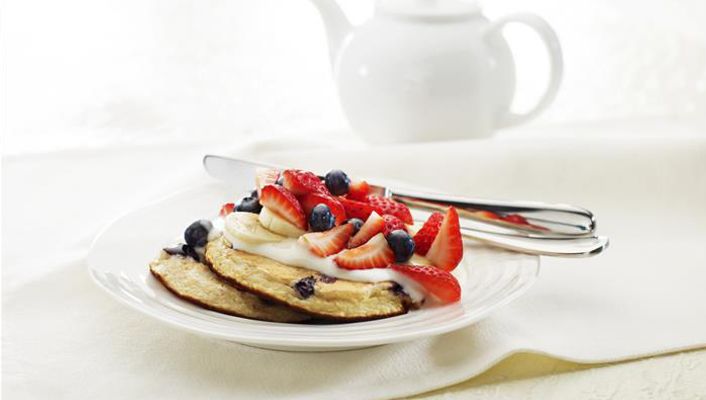 Ingredients
2 ripe bananas
1 1/2 cups wholemeal self-raising flour
1 tbs sugar
1 1/4 cups reduced-fat milk
1 tsp white vinegar
2 eggs, lightly beaten
olive or canola oil spray
1 1/4 cups blueberries, fresh or frozen
1 1/2 cups low-fat berry or vanilla yoghurt, to serve
2 cups strawberries or other berries, quartered, to serve
Method
Mash the bananas with a fork in a large bowl.
Sift flour over bananas, adding the remaining husk in the sieve to the bowl.
Add sugar and stir to combine.
Add milk, vinegar and eggs to the bowl. Mix until combined.
Spray a large non-stick frypan with oil and place over medium heat.
Place 2 tablespoons of batter evenly spaced around the pan. Cook for 2 to 3 minutes or until small bubbles appear on surface. Top each pikelet with 6 blueberries then carefully turn over. Brown on reverse side for 1 minute or until cooked through.
Transfer to a plate and repeat with remaining batter.
Divide pikelets between 4 serving plates.
To serve, layer with spoonfuls of yoghurt and top with fresh fruit.
Variation: Instead of using blueberries, press a thin ring of peeled, cored apple into each pikelet before flipping. Serve as a snack, in a lunchbox or at children's parties.
Serving Suggestion: Serve pikelets with low-fat berry or vanilla fromage frais and sliced strawberries.
Healthy tip!
Simple switch idea: try reduced-fat milk, cheese and yoghurt.
Start to LiveLighter today
Become a member for free and receive your personalised meal plan.
Nutrition Information
| | per serving | per 100g |
| --- | --- | --- |
| Energy | 1957 kJ | 456 kJ |
| | 468 Cal | 109 Cal |
| Protein | 20 g | 4.7 g |
| Fat, total | 7.3 g | 1.7 g |
| — saturated | 2.3 g | 0.5 g |
| Carbohydrate | 74.9 g | 17.5 g |
| — sugars | 37.8 g | 8.8 g |
| Sodium | 470.4 mg | 109.7 mg |
| Fibre | 9.3 g | 2.2 g |