Healthy Prawn Jambalaya Recipe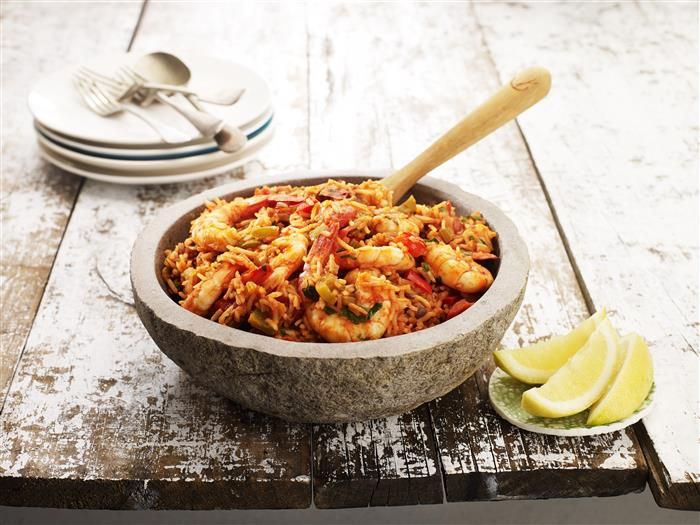 Ingredients
olive or canola oil spray
1 large onion, finely chopped
2 cloves garlic, crushed
2 stalks celery, diced
1 red capsicum, seeded and diced
1 green capsicum, seeded and diced
2 tsp smoked paprika
1/2 tsp cayenne pepper
pepper
1 cup basmati rice
500 mL salt-reduced chicken stock
400 g can no-added-salt diced tomatoes
400 g uncooked (green) prawn, peeled, deveined with tails intact
1/2 cup fresh Italian parsley, chopped
lemon wedges, to serve
Method
Spray a large non-stick pot with oil and place on high heat; cook onion for 3 minutes until softened, stirring often.
Add garlic, celery, capsicums, paprika and cayenne; season with pepper. Cook for 3 minutes until fragrant then stir in rice, stock and tomatoes.
Bring to the boil, stirring often, then reduce heat to medium, cover pot and simmer for 12-15 minutes or until rice is tender.
Add prawns to the pot, stir through rice and cook a further 3-5 minutes until they change colour and are cooked through.
Stir through parsley, reserving a little for garnish.
Divide jambalaya between plates, top with parsley and lemon wedges and serve immediately.
Nutrition Information
| | per serving | per 100g |
| --- | --- | --- |
| Energy | 1389 kJ | 240 kJ |
| Protein | 27 g | 5 g |
| Fat, total | 3 g | 0.5 g |
| — saturated | 0.4 g | 0.1 g |
| Carbohydrate | 46 g | 8 g |
| — sugars | 7 g | 1 g |
| Sodium | 1158 mg | 200 mg |
| Fibre | 4.7 g | 0.8 g |