Healthy Avocado Egg & Rocket Toast Topper Recipe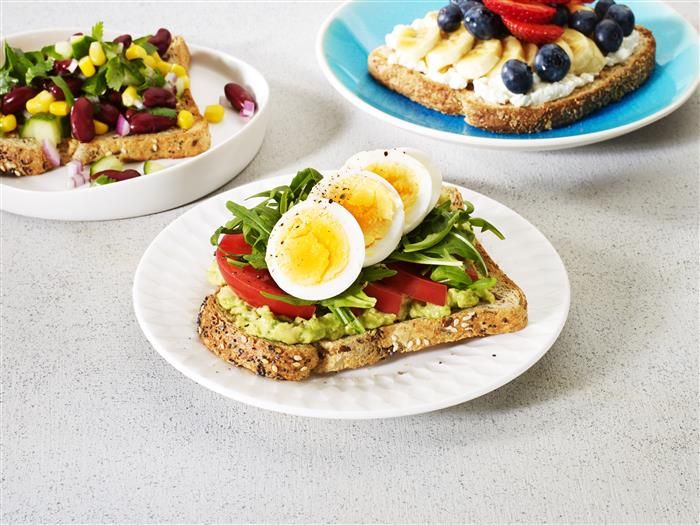 Ingredients
1 slice wholegrain bread, toasted
1 tbs avocado, mashed
1 handful rocket or baby spinach
1 medium tomato, sliced
1 hard-boiled egg, peeled and sliced
sprinkle Tabasco sauce, optional
pepper, to taste
Method
Spread avocado on toast.
Top with rocket leaves, sliced tomato and egg slices.
Add a sprinkle of Tabasco sauce, if using, and pepper.
Healthy tip!
Love sweet coffee? Try reducing the amount of sugar you have a quarter of a teaspoon at a time to trick your taste buds!
Start to LiveLighter today
Become a member for free and receive your personalised meal plan.
Nutrition Information
| | per serving | per 100g |
| --- | --- | --- |
| Energy | 921 kJ | 443 kJ |
| Protein | 11.1 g | 5.4 g |
| Fat, total | 9.9 g | 4.8 g |
| — saturated | 2.7 g | 1.3 g |
| Carbohydrate | 19.6 g | 9.4 g |
| — sugars | 3.4 g | 1.6 g |
| Sodium | 237.6 mg | 114.2 mg |
| Fibre | 3.9 g | 1.9 g |