Healthy Easy Beef Hot Pot Recipe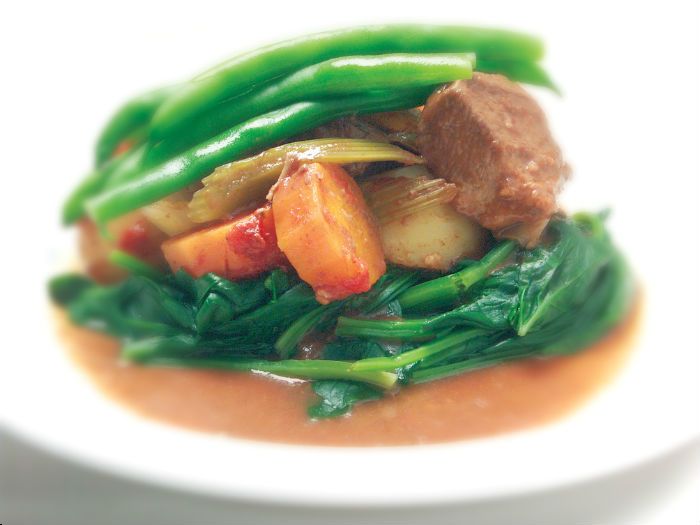 Ingredients
1 kg chuck or blade steak, cut into chunks
2 tbs plain flour
2 tsp paprika
425 g can no-added-salt diced tomatoes
2 medium onions, sliced
1 clove garlic, crushed
2 sticks celery, sliced
2 large carrots, thickly sliced
1 turnip, cut into chunks
3 medium potatoes , cut into chunks
1 cup stock
Method
Preheat oven to 180 °C.
Toss meat, flour and paprika in a plastic bag, tip into a heavy casserole dish.
Add all remaining ingredients and stir to combine.
Press a piece of baking paper over the ingredients and cover closely with a lid.
Cook for 2 hours without lifting the lid. Check for seasoning and tenderness, returning to oven if more cooking time is required.
Recipe from Healthy Food Fast © State of Western Australia, 2012. Reproduced with permission.
Serving Suggestion: Serve with mashed potatoes and steamed green vegetables.
Healthy tip!
We are family! Enjoy some quality time together at the dinner table and switch off all other distractions.
Nutrition Information
| | per serving | per 100g |
| --- | --- | --- |
| Energy | 1239 kJ | 403 kJ |
| Protein | 37.4 g | 12.2 g |
| Fat, total | 6.9 g | 2.2 g |
| — saturated | 2.4 g | 0.8 g |
| Carbohydrate | 18.7 g | 6.1 g |
| — sugars | 4.4 g | 1.4 g |
| Sodium | 476.5 mg | 155.1 mg |
| Fibre | 3.4 g | 1.1 g |