Healthy Sticky Tofu Noodles Recipe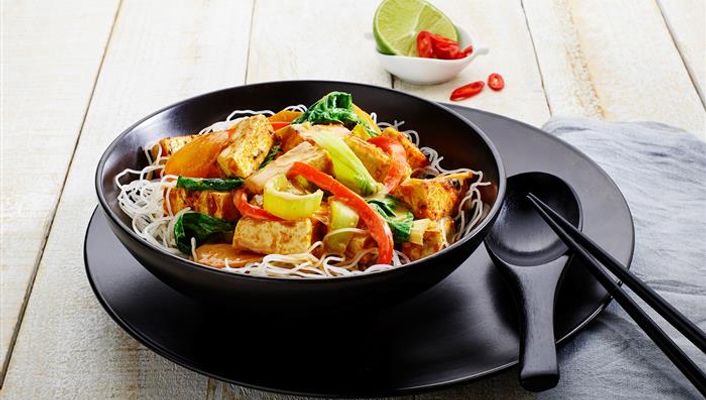 Ingredients
1 1/2 tbs laksa paste
300 g firm tofu, cut into chunks
1 tsp water
100 g rice noodles, to make 2 cups cooked
1 tsp oil
1 bunch bok choy
1 carrot, thinly sliced
1/2 capsicum, thinly sliced
3 tbs reduced-fat coconut milk
2 tsp reduced-salt soy sauce
2 tbs lime juice
Method
Put the laksa paste, tofu cubes and water in a bowl and stir to coat the tofu.
While tofu marinates, cook noodles according to packet instructions, drain and set aside.
Heat oil in a large frypan, and fry the laksa covered tofu pieces until golden (4-5 minutes). Remove from pan and set aside.
Pull the bok choy leaves apart, and wash well. Slice up the stems thinly and set aside the leaves. Cook the carrot, capsicum and bok choy stems on a high heat for 2 minutes, or until just soft.
Add the coconut milk, soy sauce, lime juice and vegetables to the pan and turn off the heat. Stir to cover the vegetables in sauce.
Serve the noodles, tofu and vegetables in a bowl, pouring the pan juices over the top.
Ingredients for sticky tofu noodles
Comment: *To make this dish vegetarian, seafood-free and gluten-free, use a spice paste with no seafood or gluten
Healthy tip!
On a budget? If fresh produce is not available or is too expensive, try canned or frozen fruit and veg!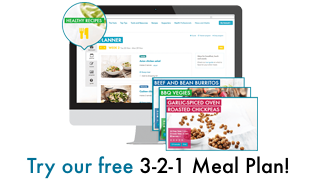 Nutrition Information
| | per serving | per 100g |
| --- | --- | --- |
| Energy | 2164 kJ | 315 kJ |
| Protein | 29 g | 4 g |
| Fat, total | 22 g | 3 g |
| — saturated | 4 g | 1 g |
| Carbohydrate | 42 g | 6 g |
| — sugars | 9 g | 1 g |
| Sodium | 1090 mg | 159 mg |
| Fibre | 17 g | 2.4 g |