Healthy Aromatic Slow-Cooked Beef Curry Recipe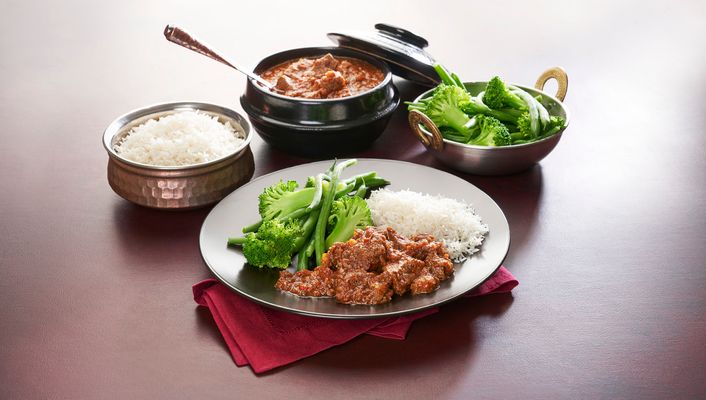 Ingredients
2 tbs ground coriander
2 tbs ground cumin
1 tbs garam marsala
2 tsp pepper
1/2 cup reduced-fat plain yoghurt
700 g chuck, oyster blade or lean casserole beef
1 tbs olive oil
1 onion, finely chopped
4 cloves garlic, finely chopped
2 tbs fresh ginger, finely chopped
1 red chilli, sliced, optional
2 tbs no-added-salt tomato paste
500 mL reduced-salt beef stock
1 x 400 g can no-added-salt diced tomatoes
Method
Mix together spice mix ingredients. Add 3 tsp of that to a large dish with a lid, and add the yoghurt and meat and mix well. Cover and put in the fridge and leave to marinate for at least 1 hr, or up to 12 hours.
Heat half the oil in a large, heavy-based pot with a lid. Cook half the meat till browned on the outside. Remove from pot, put back in the marinade dish (don't worry, it all gets cooked again), and repeat with the other half of the oil and meat.
Add a dash of water to the pot, and cook the onion, garlic and ginger for 5 minutes, stirring often. Add a splash of water if the marinade is burning.
Add the remainder of the spice mix. Cook, stirring for about a minute, until fragrant.
Add the chilli, stock, tinned tomatoes and meat with all the marinade.
Cook on a low heat with the lid on for 2 ½ hours, Check occasionally and add a little boiling water if it's getting too dry. If, when the meat is falling apart the curry is too runny for your liking, simmer for another 10 – 15 minutes with the lid off.
Serve with rice and vegies or other accompaniments (e.g. flat bread).
Variation
:
To cook in a slow cooker, complete steps 1-5 in a large frypan. Then transfer the contents of the frypan, plus the chilli, tomato paste, stock, tinned tomatoes and meat with all the marinade to the slow cooker. Cook for 2-3 hours on HIGH or 4-6 hours on LOW. This will give the best flavour. Alternatively, the marinated meat plus all the other ingredients can be put in the slow cooker together without pre-browning (but it won't be as tasty).
Ingredients
Serving Suggestion
:
This is delicious with white or brown rice or flat bread like naan.
We like this with steamed green beans and brocoli, but use whatever you have available.
Please note: the nutrition information refers to the curry only without additions like rice, naan or steamed vegetables.
Comment
:
This makes a curry with lots of flavour, and a little heat from the ginger, chilli and pepper. Feel free to increase the heat by adding more fresh or dried chilli.
Healthy tip!
We are family! Enjoy some quality time together at the dinner table and switch off all other distractions.
Start to LiveLighter today
Become a member for free and receive your personalised meal plan.
Nutrition Information
| | per serving | per 100g |
| --- | --- | --- |
| Energy | 1138 kJ | 385 kJ |
| | 272 Cal | 92 Cal |
| Protein | 25.6 g | 8.7 g |
| Fat, total | 12.9 g | 4.4 g |
| — saturated | 4.9 g | 1.7 g |
| Carbohydrate | 9.9 g | 3.4 g |
| — sugars | 2.2 g | 6.5 g |
| Sodium | 120 mg | 355 mg |
| Fibre | 2.2 g | 6.4 g |