Healthy Date & Muesli Slice Recipe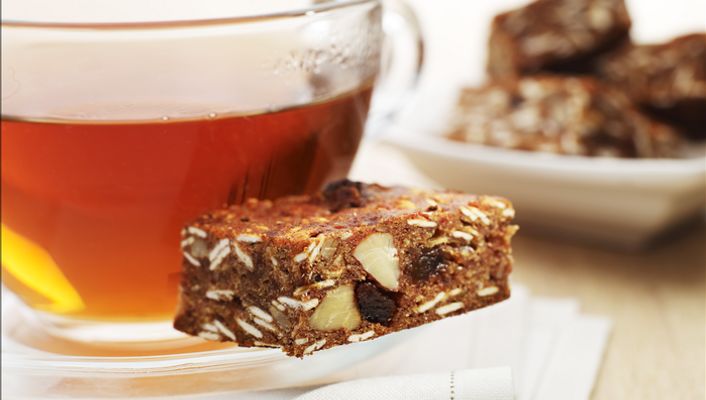 Ingredients
olive or canola oil spray
2 apples, core removed, coarsely grated with skin on
1/3 cup water
1/4 cup margarine
2 cups date, seeded
2 cups natural muesli
1/2 cup plain flour
1/2 cup wholemeal plain flour
1 tsp ground cinnamon
Method
Preheat oven to 180ºC (160ºC fan forced).
Lightly spray a slice tin (approx. 25x30cm) with oil.
Add apple, water, margarine and dates to a small saucepan and bring to the boil.
Reduce heat, cover and simmer for a further 5 minutes until the apple is soft.
Cook uncovered for a further 5 minutes and stir occasionally until mixture thickens to a paste-like consistency.
While apple and date mixture is cooking, place muesli in a large frypan. Stir over low heat for 5 minutes until lightly browned.
Sift flours into a large bowl, returning husk remaining in the sieve to the bowl.
Add cinnamon and muesli to the flours and mix to combine.
Stir into the date mixture then spoon into prepared tin.
Bake for 20 minutes until firm.
Cool in tin before cutting.
Hint
Use wooden or plastic spoon to stir muesli so your frypan doesn't get scratched.

Comment: Note: this recipe is higher in sugar than most LiveLighter recipes. The sugar in this dish comes from fruit (mostly dried fruit) and is bundled up with fibre, vitamins and antioxidants. Each serving of this recipe gives 1/2 a serve of fruit towards the goal of 2 serves per day. Aim to mostly get fruit serves from fresh, frozen and tinned fruits and include concentrated sources of fruit like dried fruit and juice only occasionally.
Healthy tip!
Having a party? Serve vegie sticks and water crackers with salsa rather than high-fat chips and dips.
Start to LiveLighter today
Become a member for free and receive your personalised meal plan.
Nutrition Information
| | per serving | per 100g |
| --- | --- | --- |
| Energy | 511 kJ | 1003 kJ |
| Protein | 2 g | 4 g |
| Fat, total | 2.2 g | 4.4 g |
| — saturated | 0.5 g | 1 g |
| Carbohydrate | 22.3 g | 43.8 g |
| — sugars | 14.1 g | 27.1 g |
| Sodium | 19 mg | 37 mg |
| Fibre | 3 g | 6 g |