Healthy Pear Pancakes Recipe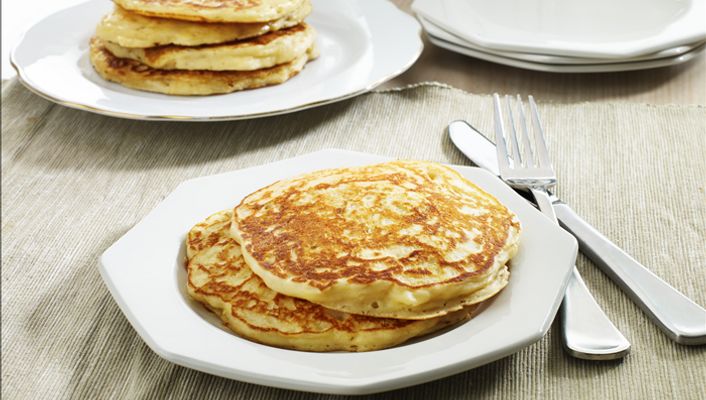 Ingredients
1 cup self-raising flour
1 cup reduced-fat milk
1 egg
1 pear
Method
Put the flour, milk and egg in a mixing bowl and whisk until smooth.
Grate in the pear, and then stir through with a spoon.
Warm up a large non-stick pan over medium heat.
Add the batter a spoonful at a time to the hot pan.
Watch the surface of the pancake. When bubbles form and the edges begin to look dry, gently lift one edge of the pancake to check for colour. When it's golden brown, it's ready to flip.
After flipping, continue cooking for a few more minutes until pancakes are cooked through.
Serving Suggestion: Serve warm with a tablespoon of natural yoghurt.
Nutrition Information
| | per serving | per 100g |
| --- | --- | --- |
| Energy | 806 kJ | 552 kJ |
| Protein | 7.9 g | 5.4 g |
| Fat, total | 2.9 g | 2 g |
| — saturated | 1.1 g | 0.8 g |
| Carbohydrate | 32.3 g | 22.1 g |
| — sugars | 6.3 g | 4.3 g |
| Sodium | 282.8 mg | 193.7 mg |
| Fibre | 2.2 g | 1.5 g |