Healthy Crunchy Waldorf Salad Recipe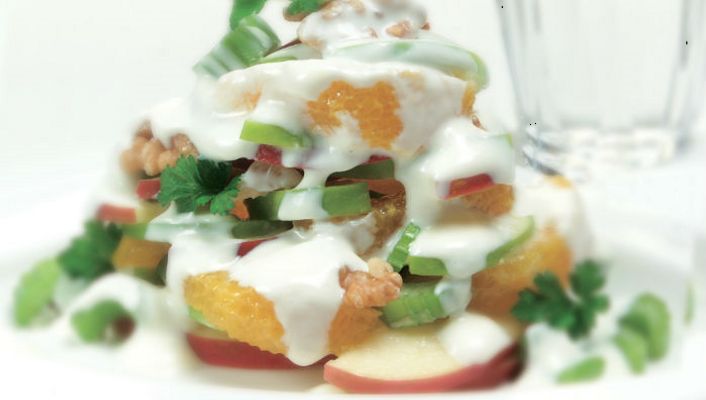 Ingredients
4 apples, cored and chopped
1 cup celery, sliced
1 orange, cut into segments
1/4 cup walnuts, chopped
1/2 cup low-fat natural yoghurt
2 tbs low-fat mayonnaise
2 tbs parsley, chopped
1/2 orange, juiced
Method
Combine apples, celery, orange and walnuts in a bowl.
Mix dressing ingredients in a separate bowl and pour over the salad.
Mix thoroughly and serve.
Recipe from Healthy Food Fast © State of Western Australia, 2012. Reproduced with permission.


Variations
Red or black grapes can be added when in season.
Instead of walnuts, try macadamias or cashews.
Serving Suggestion: This simple salad is delicious with grilled chicken or turkey.
Healthy tip!
Try mustard instead of mayonnaise to add extra flavour to your salads and sandwiches.
Start to LiveLighter today
Become a member for free and receive your personalised meal plan.
Nutrition Information
| | per serving | per 100g |
| --- | --- | --- |
| Energy | 685 kJ | 236 kJ |
| Protein | 3.5 g | 1.2 g |
| Fat, total | 3 g | 1 g |
| — saturated | 0.3 g | 0.1 g |
| Carbohydrate | 28.1 g | 9.7 g |
| — sugars | 26.3 g | 9.1 g |
| Sodium | 149 mg | 50.5 mg |
| Fibre | 5.1 g | 1.8 g |