Healthy Mexican Mince - Nachos Style Recipe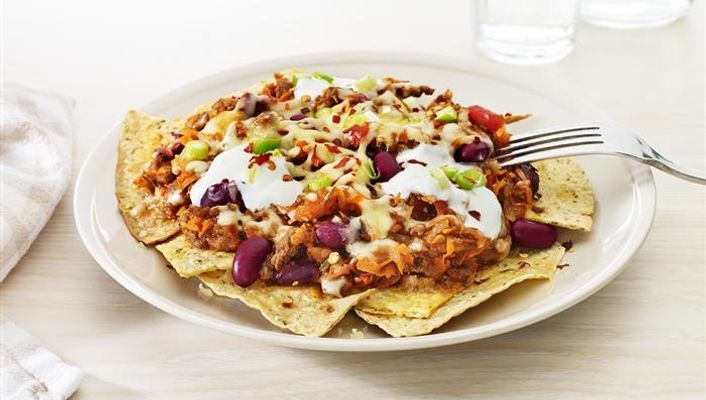 Ingredients
1 tsp canola oil
1 onion, chopped
3 cloves garlic, finely chopped
250 g lean beef mince
1 medium zucchini, grated
2 medium carrots, grated
400 g can no-added-salt red kidney beans, drained and rinsed
400 g can no-added-salt diced tomatoes
1 tbs sweet chilli sauce
2 tbs paprika
1 tbs ground cumin
1 tbs ground coriander
1 tbs chilli flake, optional
See serving suggestion
Method
Heat oil in a large frypan and fry onion, garlic and mince for about 5 minutes, till onions are clear and meat is browned.
Add the rest of the ingredients and simmer for 10 minutes with the lid off, stirring occasionally
Serving suggestion:
Use scissors to cut up a tortilla or flat bread into triangle shapes. Cook in the oven (10 minutes at 180° C) or in a sandwich press until golden and crunchy. Top these crispy triangles with a spoonful of Mexican Mince, a sprinkle of reduced-fat cheese and a spoonful of low-fat natural yoghurt. Add spring onions and chilli flakes for extra spice.
Comment
:
Double the recipe and freeze individual servings for an easy dinner another day.
Healthy tip!
Chilli, lemon and herbs add flavour - great alternatives to butter and salt!
Start to LiveLighter today
Become a member for free and receive your personalised meal plan.