Healthy Prawn Stir Fry Recipe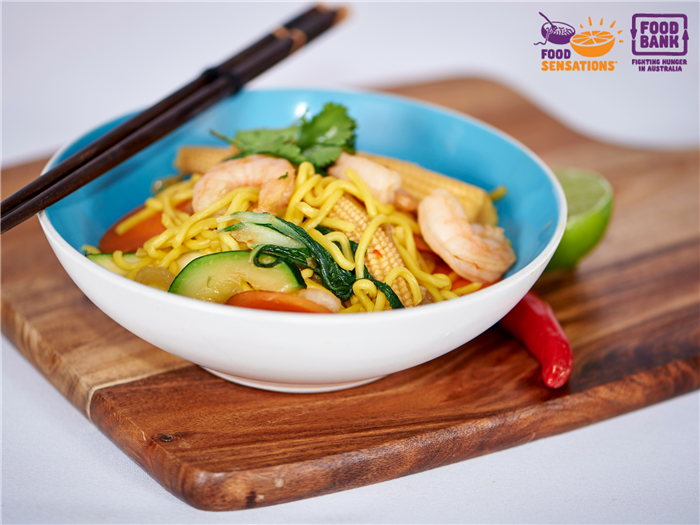 Ingredients
spray olive or canola oil spray
1 onion
3 cloves garlic
2 carrots
1/2 zucchini
1 bunch bok choy
1 x 400g can baby corn spears
300 g uncooked (green) prawn, defrosted
440 g Hokkien egg noodles
3 tbs sweet chilli sauce
3 tbs reduced-salt soy sauce
Method
Thinly slice the onion, garlic, carrots, zucchini and the bok choy stems. Drain the corn spears, tear the bok choy leaves in half and peel the prawns (if required).
Heat oil in a large wok or frypan and stir fry the onions till soft. Turn the heat up to medium-high and add the garlic, zucchini, carrots and bok choy stems and cook for 3-4 minutes.
Add the corn, bok choy leaves and prawns, and cook for 3-4 minutes, until the prawns are cooked through.
Add the noodles and sauces and mix till everything is hot, being careful not to overcook the prawns. If using pre-cooked prawns, add them at this step.
Recipe from Foodbank WA's Food Sensations® for Adults program, reproduced with permission www.foodbankwa.org.au/food-sensations-for-adults/
Variations
Fresh ginger, chilli, coriander and lemongrass all make great flavour additions to this stir fry if you have them. Add coriander just before serving, but everything else can go in the frying pan with the onions.
Frozen marinara mix or fresh seafood is also great in this recipe.
Recipe by Food Sensations

Ingredients

Equipment

Add the noodles and sauce and mix.
Start to LiveLighter today
Become a member for free and receive your personalised meal plan.
Nutrition Information
| | per serving | per 100g |
| --- | --- | --- |
| Energy | 1465 kJ | 322 kJ |
| Protein | 31.4 g | 6.9 g |
| Fat, total | 3.5 g | 0.8 g |
| — saturated | 0.4 g | 0.1 g |
| Carbohydrate | 41.8 g | 9.2 g |
| — sugars | 10 g | 2.2 g |
| Sodium | 1234 mg | 271 mg |
| Fibre | 11.6 g | 2.5 g |