LiveLighter investigates: alcohol-free alcohol
by Gael Myers, Accredited Practising Dietitian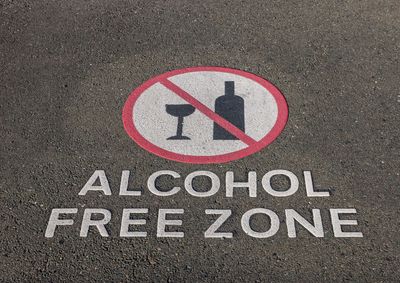 With the popularity of non-alcoholic alcohol drinks on the rise these drinks are moving from the fringe to being a viable option when you're staying away from drinking. One brand has even positioned itself not just as an alcohol alternative, but as a healthy alternative to soft drink. However, there's very little information out there about how many kilojoules these drinks contain.
To find out more we scoured 26 bottle shops and supermarkets in the Perth metro area looking for non-alcoholic versions of beer, wine, cider and spirits. To assess the energy content of these drinks, we compared the number of kilojoules in a bottle or glass against their alcoholic versions. An alcoholic beer has around 510kJ per 330mL bottle while a 150mL glass of regular wine contains around 460kJ. We also compared the kilojoules against regular soft drink - with a 300mL bottle of cola containing around 540kJ.
Here's what we found
Non-alcoholic beer
There were 15 different non-alcoholic beers included in our sample. These had an average of 313kJ per bottle, which is more than half the kilojoules of a full-strength beer (and around half the kilojoules of a soft drink). The lowest kilojoule non-alcoholic beer had just 92kJ a bottle while the highest kilojoule option contained 389kJ – quite a range!
Non-alcoholic wine
We were surprised to see the large range of non-alcoholic wines available – 29 in total. The non-alcoholic wines contained an average of 183kJ per glass, which is less than half the kilojoules in regular wine.
Other alcohol alternatives
Only one non-alcoholic cider and one brand of non-alcoholic spirits were found in our search.
The non-alcoholic cider contained more kilojoules than a soft drink – so not a great choice!
The non-alcoholic spirits were kilojoule-free (basically water with herbs and spices) but it's important to consider what you would serve them with. With only slightly less kilojoules than a cola, tonic water packs a surprisingly sugary punch so watch out if this is your mixer of choice!
Lowest kilojoule options
Kilojoules per 100mL

Kilojoules per serve

Non-alcoholic beer

Brew dog alcohol-free hoppy ale (355mL)

26

92

Holsten alcohol-free beer (330mL)

50

165

Weihenstephaner alcohol-free original Helles (500mL)

58

290

Non-alcoholic wine

Miranda non-alcoholic Sauvignon Blanc

48

72

Miranda non-alcoholic Shiraz

66

99

Vintense non-alcoholic Merlot

72

108

Edenvale non-alcoholic Rosé

75

113

Vintense non-alcoholic chardonnary

76

114

Other

Seedlip non-alcoholic spirit

0

0
Highest kilojoule options
Kilojoules per 100mL

Kilojoules per serve

Non-alcoholic beer

Carlton Zero (330mL)

118

389

Krombacher non-alcoholic pils (330mL)

111

366

Clausthaler low alcohol lager (330mL)

108

356

Non-alcoholic wine

Maggie Beer non-alcoholic sparkling chardonnay

265

398

Fronti non-alcoholic sparkling white

245

368

Lindeman's Maiden Press lightly sparkling Shiraz

227

341

Fronti non-alcoholic sparkling red

225

338

Other

The Hills cider company virgin apple cider (330mL)

224

739
So what's the benefit in drinking less alcohol?
There's no getting around it – alcohol is a cause of seven types of cancer.
The more you drink and the more often you drink the greater your risk.
Switching to non-alcoholic alcohol drinks is a great way to reduce your intake of alcohol and therefore your risk of developing these cancers.
BUT… it's important to realise that carrying too much weight can also put you at risk of cancer. It's easy to over-consume drinks as they don't fill you up in the same way that food does, meaning that we can easily drink a lot of kilojoules without realising it.
When choosing a non-alcoholic beer or wine make sure you take a look at the nutrition label to see how many kilojoules are hiding there. We'd suggest choosing non-alcoholic beers with less than 70kJ per 100mL, and non-alcoholic wines with less than 90kJ per 100mL.
---
Related posts