Work lunches that pull their weight
by Anne Finch, Accredited Practising Dietitian for LiveLighter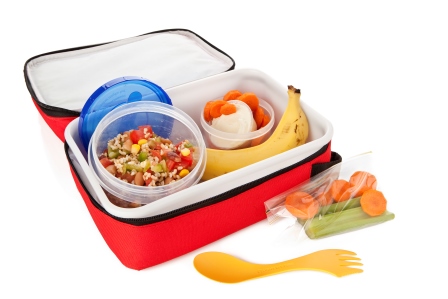 What's for lunch? If you work outside your house, it's likely that you're buying your lunch at least a few time a week. Homemade is almost always cheaper and healthier – but can be a bit of a hassle to get right. Check out our guide to simple, satisfying work lunches that won't break the bank.
Stack your sanger
Doesn't get much simpler than meat and salad between 2 slices of bread! But sometimes a sandwich isn't that appealing by lunch time. Follow our fresh sandwich principles and you'll be laughing.
Pat dry your ingredients with a paper towel before putting them in the bread
Avoid really wet ingredients like tomato or canned beetroot
Use a "buffer" for your bread so wet fillings can't make the bread soggy. Cheese, a whole lettuce leaf, sliced meat or a spread of cream cheese all do the job nicely.
Super pro tip:
Store the fillings separately from the bread and assemble last minute. This means you can even prep your sandwich the night before and just grab and go in the morning.
Salads that satisfy
Salads are going through a serious revolution. It's no longer side plate stuff – if you do it right, it's a legitimate meal. The secret is to include grains and protein to fill you up. If you make a big batch on Sunday night, that's lunch sorted for a few days! Check out this chart for inspiration.
Some of our fave combos include:

Roast vegies, baby spinach and boiled egg
Leftovers
If you're looking to up your efficiency, leftovers is where it's at. Cook more at dinner time, eat well at lunch. Easy. You can also repurpose parts of your meal. Roast meat and vegies are awesome salad additions. Our Mexican mince is (probably) the best toasted sandwich filling going. Quiche is just as good cold the next day.
| | | |
| --- | --- | --- |
| | Food safety is important here! If you don't have access to a fridge, get a cooler bag and a throw in something frozen. | |
| | If you don't have access to a microwave, use a thermos to keep your soup or stew hot till lunch time. | |
Super pro tip:
Cook up a big batch and freeze individual portions in zip-lock bags. This is perfect for soups, curries and casseroles. Let it start to defrost in the bag (in a bowl) the fridge at work, and finish it in the microwave.
Desk drawer pantry
There are lots of shelf stable foods that make easy lunch or snack options. These will happily sit in your desk drawer or glovebox till needed. At around $1 per serve, these are miles cheaper than a muffin!
Tin of baked beans
Microwave rice
Canned tuna
Canned beans/ corn
Grainy crackers
Peanut butter
Canned/ packet soup (choose lower salt)
Small cans/ tubs of fruit
Oats/ muesli
Supermarket smarts
Next time you buy your work lunch, check out the supermarket instead of the deli. Loads of lunch options waiting to happen – for a fraction of the cost!
Bread roll + can of flavoured tuna + individual bag of salad mix = healthy lunch for around $4!
Whole fruit is a perfect snack and super cheap at less than $1 a piece. Fruit is cheapest and tastiest when it's in season so mix it up!
Ready-made meals are often on special for around $5 and just need microwaving. Choose meals lower in fat, sugar and salt and with plenty of vegies.
Super pro tip:
Buy a few days' worth of ingredients or take it in turns to buy for the whole team.
Got a hot tip for us? We'd love to hear about your work lunch hacks!
Workers who eat well are more likely to be healthier, happier and more productive.Get in touch with Healthier Workplace WA for FREE advice and resources to create
---
Related posts