The busy people's guide to pantry essentials
by Anne Finch, Accredited Practising Dietitian for LiveLighter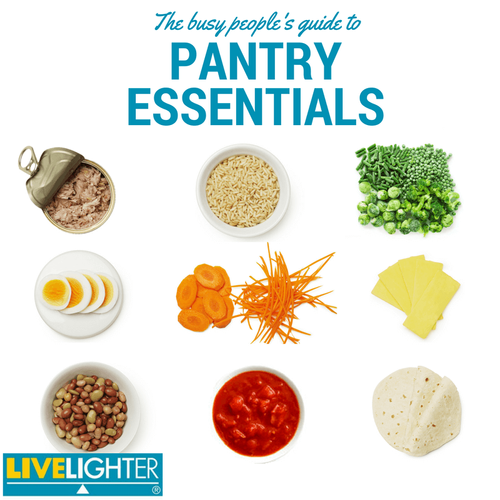 In an ideal world, our meals would be planned, our groceries shopped, and we'd get to sit at the table and relax at meal times. But when life happens, it's great to have some long-life pantry staples on hand to whip up a quick meal. These are some of my favourites, and with a few fun flavour additions (like curry pastes, sauces and spices) these will keep you fed and happy through busy times.
Tinned fish
We should aim to have a few fish meals every week, and this is a super convenient way to get it in! Flavoured versions are great to include - it's protein and sauce in one easy package. Mix it up between tuna and salmon, or even mackerel if you like the strong flavour.



Fast-cooking grains
Microwave brown rice, wholemeal couscous, rice noodles and small pasta shapes are all super speedy grains to prepare. Microwave rice and couscous are great to keep at work because all you need is boiling water or a microwave to prepare them. Add a protein (egg, beans and tuna are all in my staples list) and some veg (tinned and frozen are great) and you're on to a winner!



Frozen vegies
We've come a long way since soggy peas, carrots and corn mix! Frozen vegies are just as nutritious as fresh and sometimes even more so as the nutrients are locked in at their peak. Some of my favourites are
Spinach – such good value compared to cooking your own from fresh – it always wilts down to nothing!
Peas, beans and corn – they maintain their texture really well. Ready to try something new? Edamame and broad beans are also great if you're looking to branch out!
Stir fry mix – there's loads of different mixes available. Find one you like and stock up for the base of a super quick and easy meal.
Eggs
Cheap, versatile, filling and with a long shelf life. Just what we like! Boiled, scrambled, poached or fried. Throw in some veg and turn it into an omelette, frittata or quiche. Add to a stir fry or fried rice for a protein boost or take a trip down memory lane with a curried egg sandwich.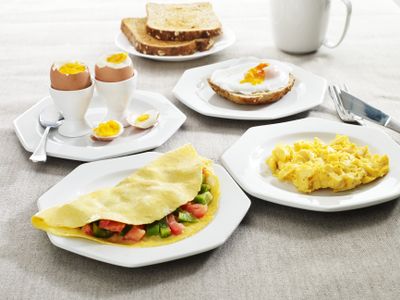 Root vegies
These guys are really hardy, and with proper storage will last for weeks. I'm talking onions, potatoes, sweet potatoes, carrots and pumpkin. Carrots are really versatile, because you can have them raw or cooked. The others are fab roasted, steamed, stir-fried or in a curry or casserole. They're a great addition to cold dishes like salads and sandwiches too.
Cheese
I really love cheese. If there aren't at least 3 types in my fridge, something is terribly wrong. But even for ordinary people, having some tasty cheese in the fridge is a good idea. It's good in salads, on pasta, in sandwiches, on pizza, on vegies etc etc. It adds protein and fat to a meal, making it more satisfying. It's also a decent source of calcium (but this varies between types).
Legumes
Legumes a general term for all kinds of peas, beans and lentils. Chickpeas, kidney beans, split peas, red lentils, black beans, cannellini beans – all that good stuff! They're a super cheap and convenient way to bulk out a meal. Adding a tin of lentils to a mince dish is a great way to make a meal go further and get some vegies in (they are counted in both the vegies group and the meat alternatives group). They're also a great source of plant-based protein AND high in fibre. Homemade baked beans, bean tortilla melt and bean salad are just 3 of the tasty ways to use them!



Tinned tomatoes
These are essential for loads of my go-to speedy dishes. Pastas, Mexican mince and this speedy curry. Passata, tomato paste and tomato sauce are also good to have on hand to use in these dishes and for pizzas and casseroles.
Wraps
Wraps last for ages in the fridge, especially if they come in a ziplock bag (or you transfer them to one! Remember to include the little desiccant sachet). They're yummy as a fresh wrap, or chuck in the toasted sandwich press for a yummy toasted wrap or quesadilla (don't forget the cheese!). Plain toasted wraps, tortillas or pita breads also make great alternatives to corn chips or crackers. They make quick pizza bases and I've even seen them used as the layers in a lasagne style dish! Go for a wholemeal or multigrain variety and choose one with less sodium.
---
Related posts